Non-Banking Financial Companies (NBFCs) and Chit funds in India
India has financial institutions which are not banks but which accept deposits and extend credit like banks. These are called Non-Banking Financial Companies (NBFCs) in India.
At end-March 2017, there were 11,522 NBFCs registered with the Reserve Bank, of which 178 were NBFCs-D and 220 were NBFCs-ND-SI. The share of NBFCs in terms of assets in total financial sector is 8.3 per cent as on 2016-17
NBFCs in India include not just the finance companies that the general public is largely familiar with; the term also entails wider group of companies that are engaged in investment business, insurance, chit fund, nidhi, merchant banking, stock broking, alternative investments, etc., as their principal business. All are though not under the regulatory purview of the Reserve Bank.
In the wake of failure of several banks in the late 1950s and early 1960s in India, large number of ordinary depositors lost their money. At this time, the Reserve Bank did note that there were deposit taking activities undertaken by non-banking companies. Though they were not systemically as important as the banks, the Reserve Bank initiated regulating them, as they had the potential to cause pain to their depositors. These institutions have thus been under the regulatory oversight of the Reserve Bank of India since 1963. Since then regulation has generally kept pace with the dynamism displayed by the sector. Later in 1996, in the wake of the failure of a big NBFC, the Reserve Bank tightened the regulatory structure over the NBFCs, with rigorous registration requirements, enhanced reporting and supervision. The Reserve Bank also decided that no additional NBFC will be permitted to raise deposits from the public. Further, in 1999 capital requirement for fresh registration was enhanced from `25 lakh to `200 lakh. Later when the NBFCs sourced their funding heavily from the banking system, it raised systemic risk issues. At the same time, their growing size and interconnectedness also raise concerns on financial stability. Sensing this, the Reserve Bank brought asset side prudential regulations onto the NBFCs. The Reserve Bank's endeavour has been to streamline NBFC regulation, address the risks posed by them to financial stability, address depositors' and customers' interests, address regulatory arbitrage and help the sector grow in a healthy and efficient manner.
Some of the regulatory measures include identifying systemically important non-deposit taking NBFCs as those with asset size of '100 crore and above in the year 2006 and bringing them under stricter prudential norms (CRAR and exposure norms), issuing guidelines on Fair Practices Code, aligning the guidelines on restructuring and securitisation with that of banks, permitting NBFCs-ND-SI to issue perpetual debt instruments etc. Recently, in November 2014, the entire regulatory framework was reviewed with a view to transitioning, over time, to an activity based regulation of NBFCs. As a first step in this direction, certain changes to the regulatory framework are sought to be made to :-
a) address risks wherever they exist,
b) address regulatory gaps and arbitrage arising from differential regulations, both within the sector as well as vis-a-vis other financial institutions,
c) harmonise and simplify regulations to facilitate a smoother compliance culture among NBFCs, and
d) strengthen governance standards. Threshold for systemic significance has been redefined as Rs. 500 crore from the extant Rs. 100 crore in assets. Systemically important NBFCs along with deposit taking NBFCs would be subject to inter alia, higher minimum Tier 1 capital, higher corporate governance standards and also stricter asset classification norms. [Source: Reserve Bank website]
A Non-Banking Financial Company (NBFC) is a company registered under the Companies Act, 1956 engaged in the business of loans and advances, acquisition of shares/stocks/bonds/debentures/securities issued by Government or local authority or other marketable securities of a like nature, leasing, hire-purchase, insurance business, chit business but does not include any institution whose principal business is that of agriculture activity, industrial activity, purchase or sale of any goods (other than securities) or providing any services and sale/purchase/construction of immovable property. A non-banking institution which is a company and has principal business of receiving deposits under any scheme or arrangement in one lump sum or in installments by way of contributions or in any other manner, is also a non-banking financial company (Residuary non-banking company).
Regulation
In terms of Section 45-IA of the RBI Act, 1934, no Non-banking Financial company can commence or carry on business of a non-banking financial institution without a) obtaining a certificate of registration from the Bank and without having a Net Owned Funds of ₹ 25 lakhs (₹ Two crore since April 1999). However, in terms of the powers given to the Bank, to obviate dual regulation, certain categories of NBFCs which are regulated by other regulators are exempted from the requirement of registration with RBI viz. Venture Capital Fund/Merchant Banking companies/Stock broking companies registered with SEBI, Insurance Company holding a valid Certificate of Registration issued by IRDA, Nidhi companies as notified under Section 620A of the Companies Act, 1956, Chit companies as defined in clause (b) of Section 2 of the Chit Funds Act, 1982,Housing Finance Companies regulated by National Housing Bank, Stock Exchange or a Mutual Benefit company.
Requirement for registration is that  company incorporated under the Companies Act, 1956 and desirous of commencing business of non-banking financial institution as defined under Section 45 I(a) of the RBI Act, 1934 should comply with the following:
i. it should be a company registered under Section 3 of the companies Act, 1956
ii. It should have a minimum net owned fund of ₹ 200 lakh.
ANNEX-I
NBFC is a financial Institution that is into Lending or Investment or collecting monies under any scheme or arrangement but does not include any institutions which carry on its principal business as agriculture activity, industrial activity, trading and purchase or sale of immovable properties. A company that carries on the business of accepting deposits as its principal business is also a NBFC.
---
ANNEX-II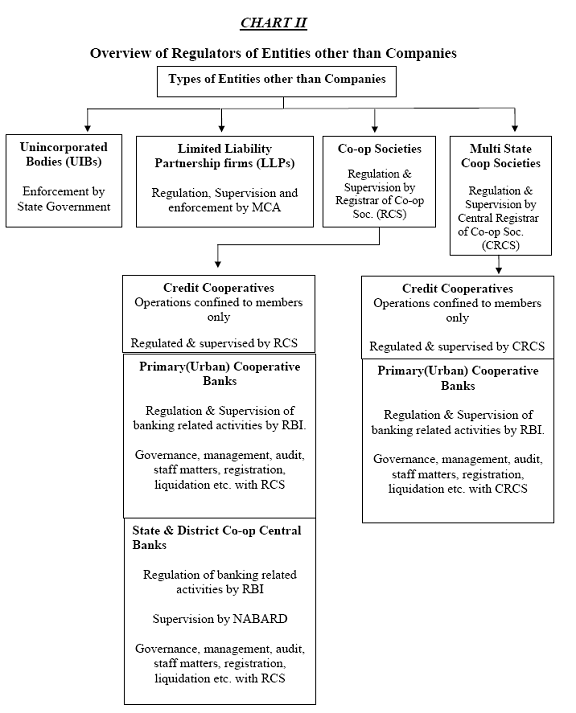 Source:- Reserve bank of India Website
List of leading NBFCs
Power Finance Corporation Limited
Rural Electrification Corporation Limited
Shriram Transport Finance Company Limited
Bajaj Finance Limited
Indian Railway Finance Corporation Limited
Mahindra & Mahindra Financial Services Limited
Muthoot Finance Limited
HDB Financial Services Limited
Cholamandalam Investment and Finance Company Limited
Shriram City Union Finance Limited
Tata Capital Financial Services Limited
Family Credit Limited
IFCI Limited
India Infrastructure Finance Company Limited
Aditya Birla Finance Limited
Manappuram Finance Limited
Kotak Mahindra Prime Limited
Capital First Limited
L&T Infrastructure Finance Company Limited
Religare Finvest Limited
Sundaram Finance Limited
IL&FS Financial Services Limited
SREI Infrastructure Finance Limited
India Infoline Finance Limited
Reliance Capital Limited
Magma Fincorp Limited
Tata Motors Finance Limited
ICICI Securities Primary Dealership Limited
Hinduja Leyland Finance Limited
Indian Renewable Energy Development Agency Limited
Ujjivan Financial Services Limited
PTC India Financial Services Limited
Bajaj Holdings & Investment Limited
JM Financial Credit Solutions Limited
Satin Creditcare Network Limited
Kotak Mahindra Investments Limited
IndoStar Capital Finance Limited
STCI Primary Dealer Limited
SBI DFHI Limited
Axis Finance Limited
PNB Gilts Limited
Edelweiss Finance & Investments Limited
Tata Motors Finance Solutions Limited