Law Library
---
  BOOK                                                                              CHAPTERS
Matthew-ΚΑΤΑ ΜΑΘΘΑΙΟΝ 

1 2 3 4 5 6 7 8 9 10 11 12 13 14 15 16 17 18 19 20 21 22 23 24 25 26 27 28

Mark- ΚΑΤΑ ΜΑΡΚΟΝ

1 2 3 4 5 6 7  8 9 10 11 12 13 14 15 16

Luke- ΚΑΤΑ ΛΟΥΚΑΝ

123456789101112131415161718192021222324

John- ΚΑΤΑ ΙΩΑΝΝΗΝ

123456789101112131415161718192021

Acts- ΠΡΑΞΕΙΣ ΑΠΟΣΤΟΛΩΝ

12345678910111213141516171819202122232425262728

Romans- ΠΡΟΣ ΡΩΜΑΙΟΥΣ

1 2 3 4 5 6 7 8 9 10 11 12 13 14 15 16

1 Corinthians- ΠΡΟΣ ΚΟΡΙΝΘΙΟΥΣ Αʹ

1 2 3 4 5 6 7 8 9 10 11 12 13 14 15 16

2 Corinthians- ΠΡΟΣ ΚΟΡΙΝΘΙΟΥΣ Αʹ

1 2 3 4 5 6 7 8 9 10 11 12 13

Galatians-ΠΡΟΣ ΓΑΛΑΤΑΣ

1 2 3 4 5 6

Ephesians-ΠΡΟΣ ΕΦΕΣΙΟΥΣ

1 2 3 4 5 6

Philippians- 

ΠΡΟΣ ΦΙΛΙΠΠΗΣΙΟΥΣ

1 2 3 4

Colossians-ΠΡΟΣ ΚΟΛΟΣΣΑΕΙΣ

1 2 3 4

1 Thessalonians

1 2 3 4 5

2 Thessalonians

1 2 3

1 Timothy

1 2 3 4  56

2 Timothy

1234

Titus

123

Philemon

1

Hebrews

12345678910111213

James

12345

1 Peter

12345

2 Peter

123

1 John

12345

2 John

1

3 John

1

Jude

1

Revelation

12345678910111213141516171819202122
The Greek Alphabet – I am referring Biblical Greek

Sigma (

s, V

):There are two forms for the letter Sigma. When written at the end of a word, it is written like this: 

V

. If it occurs anywhere else, it is written like this: 

s

.
Upsilon (

u

):In the above table, we suggest that you pronounce this letter like "u" in "put". The preferred pronunciation is actually more like the German "ü" as in "Brücke", or like the French "u" as in "tu". If you do not speak German or French, don't worry about it, just pronounce it the way the table suggests.
Xi (

c

): This is the same sound as "ch" in "Bach", which does not sound like "ch" in "chair". The same sound occurs in the Scottish "Loch", as in "Loch Lomond", or the German "ach!".
Dipthongs When two vowels combine to make one sound, it is called a dipthong. There are seven dipthongs in Greek:

---
Accents

Breathings

Iota subscripts
A vowel at the end of a word will sometimes have an "iota subscript" underneath it; here is an alpha with an iota subscript:

The iota subscript is not pronounced, but it can be helpful for identifying certain grammatical forms 
Punctuation

---
Vocabulary :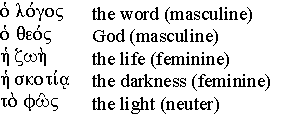 ---
Tense
A – Aorist
F – Future
I – Imperfect
P – Present
X – Perfect
Y – Pluperfect
Voice
A – Active
M – Middle
P – Passive
Mood
D – Imperative
I – Indicative
N – Infinitive
P – Participle
S – Subjunctive
Case
A – Accusative
D – Dative
G – Genitive
N – Nominative